Your Mortgage Made Easy.
Get Your easy, hassle-free
mortgage here.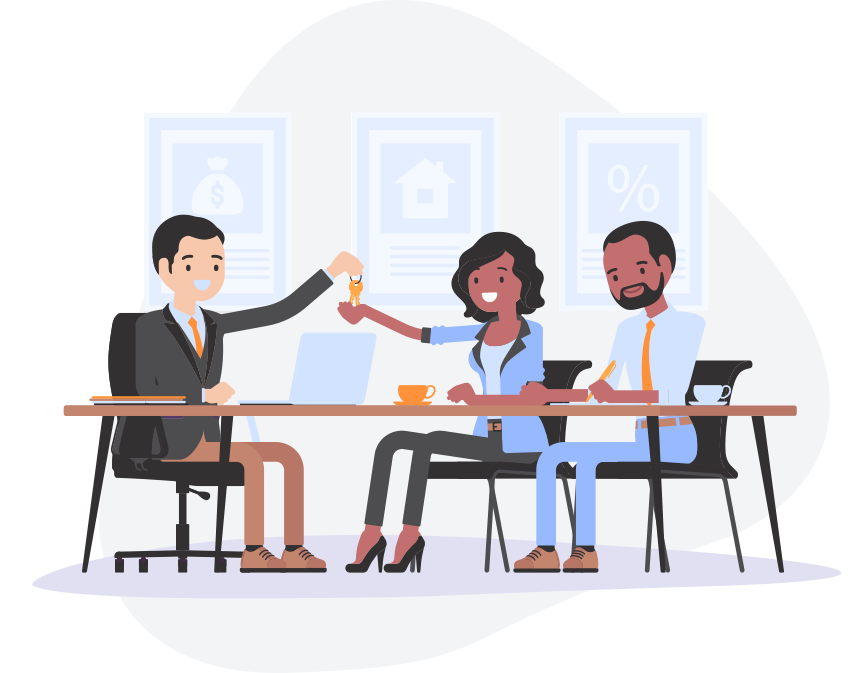 Your local mortgage lender for the Gulf Coast
We are a full-service mortgage company with offices in Mobile and Baldwin County in Alabama. We specialize in FHA, USDA, Conventional, and VA Loans in all areas of the Gulf Coast including Mobile, Saraland, Satsuma, Spanish Fort, Daphne, Fairhope, Semmes, Foley, Gulf Shores, and Orange Beach. Whether you are buying a home, building, or refinancing in any of these areas, we can help you realize your dream of homeownership or save you money when getting your new lower monthly payment.
Purchasing, Refinancing, or Building. We can help you with all of these!
We have options for whatever your mortgage need may be when purchasing a brand new or previously occupied home.

Want to build a new home? We can help with that as well whether buying land at the same time or building on your own lot even if it's currently financed elsewhere.

For refinances, we offer a wide range of options, designed to best meet the needs of local borrowers. If you're looking for taking cash out, or to just get a better rate and term, we can assist you.
Contact us today to discuss your mortgage loan options, and find out which loan program will best suit your needs.

Rich and his team are the BEST! They were kind, knowledgeable, and fantastic to work with. They were always quick to respond, detailed in their explanations, and worked hard to find me the best options when purchasing my home. I'm so thankful for this team and highly recommend them!
Ashlyn

Richard walked with us every step of the way. He continuously searched out and got us the best rate possible and at the same time found a way to reduce the cost of closing. His tenacity and patience were beyond stellar. Thanks again Richard for all you have done to get us back into our own home!
Daniel & Michelle Cook

I want to thank Rich Preston and his team for everything. Being a first time homebuyer can be overwhelming but Rich provided me with valuable information to assist me every step of the process. Thanks Rich and the Magnolia Mortgage Team!
Angelia Dubose

Many thanks to Rich and the Magnolia team for helping us refinance our investment property in Alabama. Rich found us a fantastic rate (nearly two points below the original loan!), communicated regularly and was always responsive to my calls and emails. Rich was also able to secure a local inspector quickly after Hurricane Laura to keep our refi application on track with the bank (and reassure us that the property was safe!). We greatly valued his personal service and know you will too!
Melissa S.

Kind. Courteous. Efficient.
Christopher

Rich went over and beyond his part on helping us with our mortgage, from helping us understand, finding our paperwork, and going outside of his box to find out answers for us. He is really great to work with!! I will be recommending him !! I can't give him enough thanks!!!
Linda Tooley

I just want to say Mr Preston is the best...he rocks...he helped me through the whole process never was rude...answered every call and questioned that I asked I'm very grateful to have met him thanks again Mr. Rich
Jasmene Ervin

Rich was always on top of the game and kept us informed throughout the process.
Carmen Woodham

Rich Preston handled our loan In an exceptional manner. He was very responsive to all our questions and kept us up to date on all the steps of the loan application. I would highly recommend Rich to anyone who is seeking a loan for the purchase of a home. Also, Mortgage Loan Originators, Renee Kemmeter & Debbie Mize , did an excellent job at keeping us update on all the documents we needed to provide and sign. They also answered all our questions and conducted themselves in a highly professional manner. Thanks Rich, Renee, Debbie and all the Staff at Magnolia Mortgage for making our home buying experience enjoyable.
Rick Hendrix

Rich was absolutely wonderful in helping me through this entire process. He was kind, professional and answered all of my questions promptly and with no judgement! I have already recommended him to some friends of mine that are looking to buy a house!
Summer Davidson

Rich and his team are true professionals from start to finish. We could not be more pleased and would happily recommend them!
Kirsten & John Rand

Rich was great to work with, throughout the entire process he was there to help. He was incredibly communicative and answered any and all questions that came up. We would absolutely recommend him, as he made the home buying experience much easier and way less stressful.
Spencer Mayfield

Rich at Magnolia Mortgage was so helpful through the process of buying my first house. He worked day and night and even on the weekends to help me get the best mortgage plan at an incredible interest rate. I would recommend using Rich or Magnolia Mortgage to anyone who is looking to buy a home or refinance their current home. Thanks for making this process easy and understandable!!
Matthew Brannan

Rich stayed with me through every step of this process. He encouraged me to be patient with the market and wait for the best environment. He ran several scenarios for me and found the best possible course of action for me to save the most with my refinance. He and his team worked very quickly as soon as I was ready to move and we closed within days. I recommend Rich and Magnolia Mortgage to anyone without reservation.
Michael Fletcher

Rich Preston helped me through my first home purchase and answered all questions while keeping me informed during the whole purchasing process. Thank you and Magnolia Mortgage Company for the assistance!
Richard Hughes

Magnolia Mortgage was quick and helpful with their services. I worked with Rich and Renee and they were both outstanding to work with. I would recommend them to anyone who has need of their services.
Bryan Downey

Excellent service and very responsive to any questions. Would definitely recommend Rich and his team!!!
Tammy McCarthy

Easy 5 for this amazing mortgage company and I would recommend this mortgage company to everyone because of their amazing experience and service, especially the loan officer Rich has ton of experience and knowledge. The most I like about this mortgage company is the way they work and the way they treated us, they treated us beyond customer they treated us like one of their own family and that is why I like this mortgage company.
Phaithoun Mixay

Rich was on point and quick. His customer service was excellent. It didn't matter when I had questions, I could call and if he couldn't answer right away, he would get back to me promptly. I've been through this process before and by far this was the best experience. HIGHLY RECOMMEND!
Nikki Holley

Rich was immaculate through this entire process. Making everything easily understandable and was thorough with every piece of information. Rich would constantly provide updates, references, and resources explaining where I could locate documents and information that was needed. He was also very patient with me going through this process to buy my first home. Magnolia Mortgage as whole was very easy and dependable to work with and I highly recommend them to anyone looking for help!
Andrew Brown

Rich Preston was extremely helpful from start to finish. He was able to answer any question we had and went above and beyond for me and my husband. He made the entire process much easier and worked hard to get things moving efficiently and quickly. HIGHLY RECOMMEND!
Kasey Aucoin

Rich did a great job with helping me through the loan process. Being a single mom, I wasn't sure that I would even be able to pull off purchasing my own home - but Rich made it fast and relatively easy for me and my little boy to get into our beautiful home.
Debra L Cresswell

Rich made the process so much easier and overall was great at communication. Made the overall experience awesome!
Jordyn

I didn't have to go out and do anything. I just used their recommendations and went with what the team said. Did mostly everything through email and sent over a few copies. Great to work with.
Hunter Hansen

Thank you for all your help and encouragement..always available and ready when I needed you..I would definitely recommend you to any one I know that needs your services
Rita Jarrett

Rich did a wonderful job in a timely manner when I was in a pinch.
Sharon farhadi

Wonderful person to go through. Helped me through everything I have questions with and everything. I would recommend anyone to go through Rich Preston
Kenneth Wilson

Great to work with! Very satisfied!
Rachel

Every thing was done as promised and you guys held my hand as needed. It was a pleasant experience and I will definitely use you when I buy my next house.
Kristi collins

You guys are awesome! What a great experience!
Kati Raley

Rich Preston is fantastic! He tried his very best to make this process easy for us.
Carol Eheler

Excellent personal service, devoted all the time needed to let me know they care about my business.
Steven R Evans

Rich was great to work with, he was very knowledgeable and he kept us informed every step of the way
Carla Finley

Very kind and patient with a good friend of mine who knew absolutely nothing about obtaining a mortgage. He made the whole process a pleasant experience. He responds quickly and he answers his phone, not someone else. He has a great disposition and excellent customer service. I can not thank him enough for making my friends first home purchase an enjoyable process.
Michelle Thomas

Great person to work with on a mortgage, he kept me updated on everything and answered all of the questions I had. I would refer him to anyone who is looking for a mortgage.
Richard Boykin Jr

Upfront and honest throughout the entire process. Kept me up to date all along the way.
Jeanette Emery